SiteGround is the web hosting company that was founded in the year 2004 and the company is based in Bulgaria. SiteGround has positioned itself as a company that can offer high-quality, well-crafted hosting solutions. The company will offer many hosting solutions that range from shared Linux hosting, shared hosting, cloud, dedicated and reseller hosting packages.
SiteGround is known as one of the fastest-growing independent hosting companies where their growing event involvement in the WordPress, Drupal, Joomla and marketing communities with the Email Hosting feature also available. Even you can opt for a managed or unmanaged plan which has many benefits while choosing the plans. Below are the pros and cons of using SiteGround.

Pros and Cons of Using SiteGround
Pros of using SiteGround
The SiteGround's Uptime performance has been perfect over that time and their 99.9% average time to load the website will put them among the most reliable hosts which we have reviewed. Reliable uptime will always the website visitors happy and most important is that your site is almost guaranteed for working around the clock where you cannot miss out when your customers need to make a purchase.
Site Speed is the most crucial factor which needs to be considered while choosing a host. The starters will show that 53% of people will leave the pages if it doesn't load within three seconds which is researched by Google. The other thing is that you can't do much for fixing a slow host and you might consider loading the website through a CDN for taking pressure off your server. So, you need not worry about that with SiteGround and their above-average loading time of 673ms can be faster and will place SiteGround under the top 10 at speed.
Good Customer Support Experience
In the last two years, the SiteGround didn't have any issues with their support and the company will provide a knowledge base for the customer for finding their own quick answers. Even you can clear the doubts through a phone call or use the 24/7 live chat. Just like other hosting companies, they don't have any noticeable delay while answering and will know about what customers are talking about where they don't have to look up for answers each time you send the new question.
30-Day Money-Back Guarantee
The SiteGround will include a full 30-day money-back guarantee on all shared hosting plans. However, their cloud, VPS and dedicated hosting plans will come with a 15-day refund. So, like other hosts, domain name fees and any other extras will not be refunded. Also, their refund policy will apply to brand new customers and cannot get a refund on renewal plans.
Cons of using SiteGround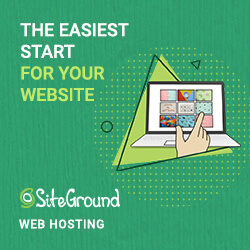 The SiteGround's cheapest plan, Startup, features a low $3.95/month advertised price on their website. This deal can look good because every wen host will use the same trick and they catch the attention with a low introductory rate and double the price when the time comes for renewal. The Ideal solution for using this feature is the longest term possible for taking advantage of the low rate as long as you can.
$14.95 Setup Fee for the monthly billing
Not many shared web hosts can let you buy the domain only for a month and they will always try for getting you to sign up for at least a few months or a year. So, SiteGround will allow you to sign up for a single month and charge for the Setup fee for those plans. Also, after the first month, your plan can be renewed at a higher rate.
SiteGround' pricing on their lowest plan is comparable to the competition and might look like a good deal when you are looking at it, but the plan doesn't provide the same where they have mentioned. So, few plans can be good for smaller sites and if your site starts becoming larger then you need to upgrade and pay extra more for increased resources.
Most web hosting companies will provide a free domain name for attacking new customers and they will always include the low introductory rate and additional services like email or migrations. However, SiteGround doesn't provide free domain names while hosting the website and they will charge extra for one domain which starts from $15.95 per year.
SiteGround has delivered exceptional performance over the years and the uptime guarantee will make sure they will never have any issues regarding the loading time. So, I would recommend to customers this hosting company for technical features and full of plans for the website that help in growing the websites.