With the huge competition in the market, you might have seen various companies or providers which promise to provide you with the best plans and its features at a very affordable price range. Moreover, if you are a beginner in this field and looking for the best solution for hosting your website, then this article will help you find the best hosting service.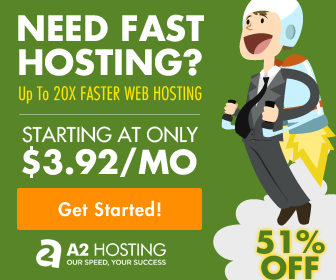 If you start comparing different providers on the Internet, you will get some top listed in the search engine. As per our top sources, A2 is one of those web hosting companies that have varieties of offers and discounts for its customers. A2 has been in this industry since 2001, and since then, it has provided astonishing server speeds and uptime over the past five years. One of the best qualities of A2 hosting is the plans and its respective features you will get from those. Let us check out some of the best plans that you can get from A2 below:
Shared Hosting Plan:
Shared Hosting is one of the most popular plans you most people choose for. It comes with some amazing features such as free WordPress, Drupal, and Joomla optimized with Turbo servers up to 20X faster speed. This plan is very easy to use, and free site migration available as well.  Some of the other top features of the Shared Hosting plan by A2 is that you will get easy to use control panel, easy site builder, Let's Encrypt Free SSL certificate and many more. You will also get A2 optimized SSD for the best server speed and uptime. The pricing of these plans starts from $ 3.92 per month, and you will also get certain discounts and coupons as well if you search.
Reseller Hosting:
With pricing starting at $ 9.80 per month, the Reseller Hosting is a plan that commonly used for any of your blogs or a small online store that shares information to its users and has good website traffic. With this plan, you will get an easy setup for individual hosting accounts and has a world-class premium WHM control panel. Other best features of this plan include 20X faster turbo option along with easy to use control panel, Free SSL certificate, Domain reseller accounts, options for server locations and SSD optimized hardware for the best speeds and uptime guaranteed.
VPS Hosting:
 The VPS hosting is commonly known as Virtual Private Server hosting, which is used for speed, enhanced security, and developer-friendly. With the free migration feature, the VPS hosting is faster up to 20X faster turbo option and has managed hardware and network. You will get the ultimate feature of Root access for unmanaged and Core VPS along with Easy to use cPanel with managed and Core VPS.
Dedicated Server:
With Plans starting from $99.59 per month, the dedicated server is a plan by A2, which is the most advanced among them all. Some of the top features by this plan include complete isolation, picking your management level, customizing your server's resources, and power along with site migration for free as well. In the Dedicated server plan, you will get a 20X faster turbo option for where you can manage your hardware and network.
Well, these were the best plans that are offered by A2 Web Hosting. These plans are exclusively available for all the customers who are looking for the best quality features for their website. Apart from all these plans and features, A2 is said to be one of the best in providing the best services as well. Let us check out some of them below to know more.
One of the most important requirements for every web hosting is the performance, and it is all dependent on the servers they have. A2 consists of best performance and improved speed and uptime of the host, which guarantees you 99.9% uptime.
On the other hand, since your hard work is stored in their databases and it needs to be kept securely so they have the most advanced security features which you can trust the most.
They provide 24/7 customer support with 100% assurance of your problem to be resolved. They are also available in Calls and Email support as well.
We hope the above information has helped you find out the best provider for hosting your website. If you are a beginner or any professional in this field as well, then you can surely pick A2 hosting for their best Plans, Features, and Services.
Thank You for reading.